Are you a Flash AS3 developer of web games? Do you want to port your games to mobile? A nice idea is take your Flash AS3 code and in a few steps using Adobe AIR to create an .apk file for Android and a .ipa file for Apple iOS.
MilkManGames offers you some amazing ANEs ('Air Native Extension') which extends your game functionality, and makes your work easier so you don't have to write native code. Thanks to MilkManGames you can just add 2 lines of code and you have In-app purchases, adding Ads on your games, Google Play/AppStore leaderboards, Push Notifications, Social Sharing, posting Score to Facebook, RateBox, …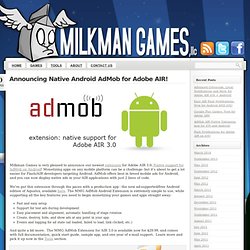 MilkManGames is an independent, San Francisco based game studio dedicated to bringing accessible, original entertainment to the web, PC, and mobile platforms.
You can visit their web site here: MilkManGames and find the great tools they offer.
Many developers are using MilkManGames extensions and I will start using them soon.

Do you recommend some ANE's? Do you use MilkManGames ANEs? Leave your comments! 😉